Now that I have both the Cricut EasyPress2 and the original Cricut EasyPress I thought I would tell you the differences so you can make an informed decision on which EasyPress to buy.
WHAT IS A CRICUT EASYPRESS?
The Cricut EasyPress is a hybrid between an iron and a heat press. It has the quality and precision of a heat press but at the connivence of an iron. It is used to transfer iron-on vinyl to fabric or other surfaces.
WHAT'S DIFFERENT BETWEEN THE CRICUT EASYPRESS2 AND THE ORGINAL EASYPRESS?
The EasyPress2 heats up to 400 degrees allowing a broader range of materials to be used like wood. Where as the original only heats up to 350 degrees. It also heats up faster, up to 25% faster than the original.
The EasyPress2 has a thicker heat plate which helps it heat your transfer evenly giving it a professional finish that can we washed many times.
It also comes in 3 sizes,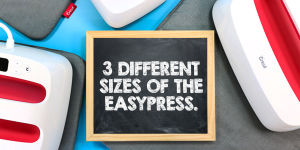 I am very excited to have 3 different sizes of the EasyPress. The original EasyPress just came in one size the 9″x9″ what appealed to me the most when the new EasyPress 2 was released that it came in 3 different sizes. The 10″x12″, 9″x9″ and the 6″x7″.
Now in the photo above the raspberry color are the EasyPress2 and the blue is the original EasyPress.
So why would you need 3 different sizes?
Being plus size, pressing mens shirts, or oversized projects I would often find my self needing to pick up the press and repeat the process again for the bit that wouldn't fit under the original EasyPress.
For that  the new 10″x12″ EasyPress 2 is much better 9x9Easy Press (Original), the coverage for the size of the shirt is perfect!!
The 6″x7″EasyPress 2  is the perfect size for your smaller projects. I also like that this size is small and mobile and could easily travel.
If you are in the market for a heat press I would suggest getting the EasyPress2. While my original EasyPress does work great I think the thicker heat plate and the sizes make it worth getting. Now if you already have the original EasyPress I don't think you need to upgrade unless you are looking for larger coverage.
WHERE CAN I BUY A CRICUT EASYPRESS 2?
With my EasyPress I also like to have matching mats. The mats have five layers of heat-resistant, moisture-wicking insulation create the ideal environment for foolproof iron-on results.
If you liked this tip, save it to your craft tips board on Pinterest for later.You can click on the  Pinterest button below to save it easily to Pinterest,or share it in social media using other social media button .